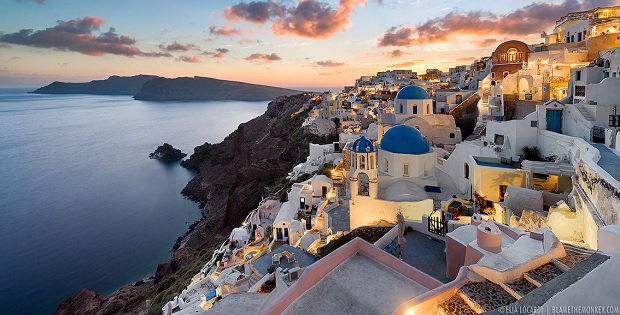 Have You Ever Visited Santorini?! If Not, Here Are 9 Beautiful Shots You Will Absolutely Enjoy:
Santorini, an island situated in the southern Aegean Sea in Greece, is considered as one of the most romantic places in the world.
Perhaps one of the most amazing features of this great destination is its lighting quality, a characteristic which many travel photographers dream of.
Whether it's sunset, sunrise, middle of the day or even night, it's just beautiful.
Here are just 9 stunning photos taken in Santorini to show you the beauty and uniqueness of this awesome place. Check out one by one these astonishing images taken by professional travel photographers on 500px.com:
Check Them Out, Enjoy and Share 🙂
1. Sunset in Santorini:
2. Santorini houses clinging to the mountains:
3. The sea view:
4. White church and blue sky:
5. Sunset shot in Oia, Santorini:
6. Sea view from a hotel room:
7. Relax and beauty in Santorini:
8. A dreamy wedding in a magical place:
9. Night scene of Oia at Santorini island:
Top Featured Image Source Credit: Sunset Dreams | Oia Santorini by Elia Locardi on 500px.com
Love the photos? Well, then go right ahead and share this page with your friends 🙂