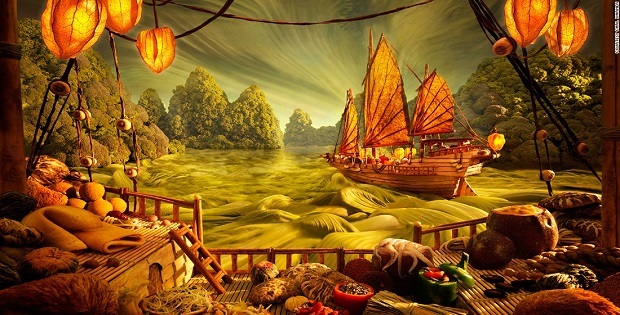 This Creative Photographer Has Captured Landscapes Photos From Food. The Results Are Stunning!
When it comes to landscape photography, almost everyone thinks about capturing images outdoor from beautiful scenes such as river, forest, sea, mountains, etc.
Have you ever imagined shooting photos from food as a source of inspiration? Well, this talented photographer has created something very unique and astonishing.
Read through the story, check out the stunning images and let us know about your valuable thoughts!
……………….

(CNN) – "Stop playing with your food!"

It's a command most of us can recall being told at least once in our young lives.

For London-based photographer Carl Warner, however, ignoring such reprimands has actually earned him a very cool career.

Warner's amazing "Foodscapes" have received global attention since he first started creating the stunningly realistic scenes more than a decade ago.

A former advertising photographer, he says he first gained inspiration when he was walking around a market and found some portobello mushrooms he thought looked like some trees from an alien world.

He took them back to his studio and mixed in a few other ingredients like rice seeds and beans to create a miniature scene on a table top.

Voila! The "Mushroom Savanna" was born.

……………….

To view more of his amazing Foodscapes or buy prints of his work check out his website, www.carlwarner.com.

……………….

See all these beautiful Foodscapes at CNN.com
Credits:
Article Source: Photographer creates incredible landscapes out of food
Image Source 1 (Also, the Top Featured Image Source)